Welcome to the Blue Goose Texas Pond
The Honorable Order of Blue Goose International was founded in 1906 in Green Lakes, Wisconsin, when a group of fire underwriters thought it important for insurance professionals to have an organization that is neutral as to the company everyone worked for in order to focus on the principles of the Order. From somewhat inauspicious beginnings sprang an international fraternal organization of men and women who work in the property and casualty insurance industry.
These Cardinal Principles of Blue Goose are CHARACTER, CHARITY AND FELLOWSHIP, which we see as 'giving back,' to our communities in charity, to each other in fellowship and to ourselves in the development of character and integrity in the insurance business.
The Texas Pond Officers for 2020-2021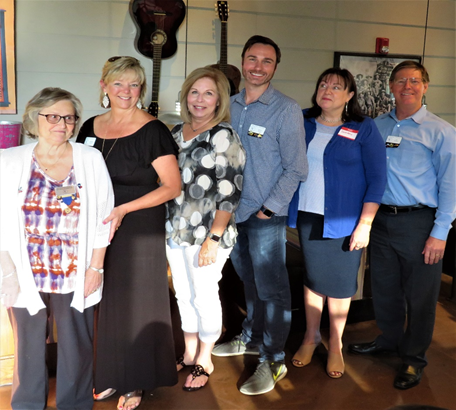 The Texas Pond Officers for 2020-2021
The 2020-2021 Texas Pond Officers: (Left to right) Linda Meik, Wielder; Daphney Elliott, KGGE;
Sheri Deaton, GOP; Jason Znoy, COG; Sharon Wilkins, SOF; and Jim Devall, MLG.